AMD has been a great brand to buy for the past few years. Ever since 2019, Ryzen has consistently (though not always) been the best option for both enthusiasts and budget buyers, while Radeon has proven itself to be a good though imperfect alternative to Nvidia. The Ryzen 9 7950X, 7950X3D, and 7900X are great CPUs but are only really necessary for high-end users who need to stream, video edit, or crunch big numbers. If you want to build a premium AMD PC but aren't a power user, we've got some solid recommendations.
The total cost of the parts we're recommending here (a full PC) is just about $1,700, which is still into premium territory. The build's price-to-performance ratio is also somewhat worse than a similarly priced Intel PC because Ryzen CPUs, AMD 600 series motherboards, and DDR5 RAM are all really expensive at the moment. If you want better value, we recommend checking out our premium Intel PC or our mainstream PC guides.
The best parts for a premium AMD PC build in 2023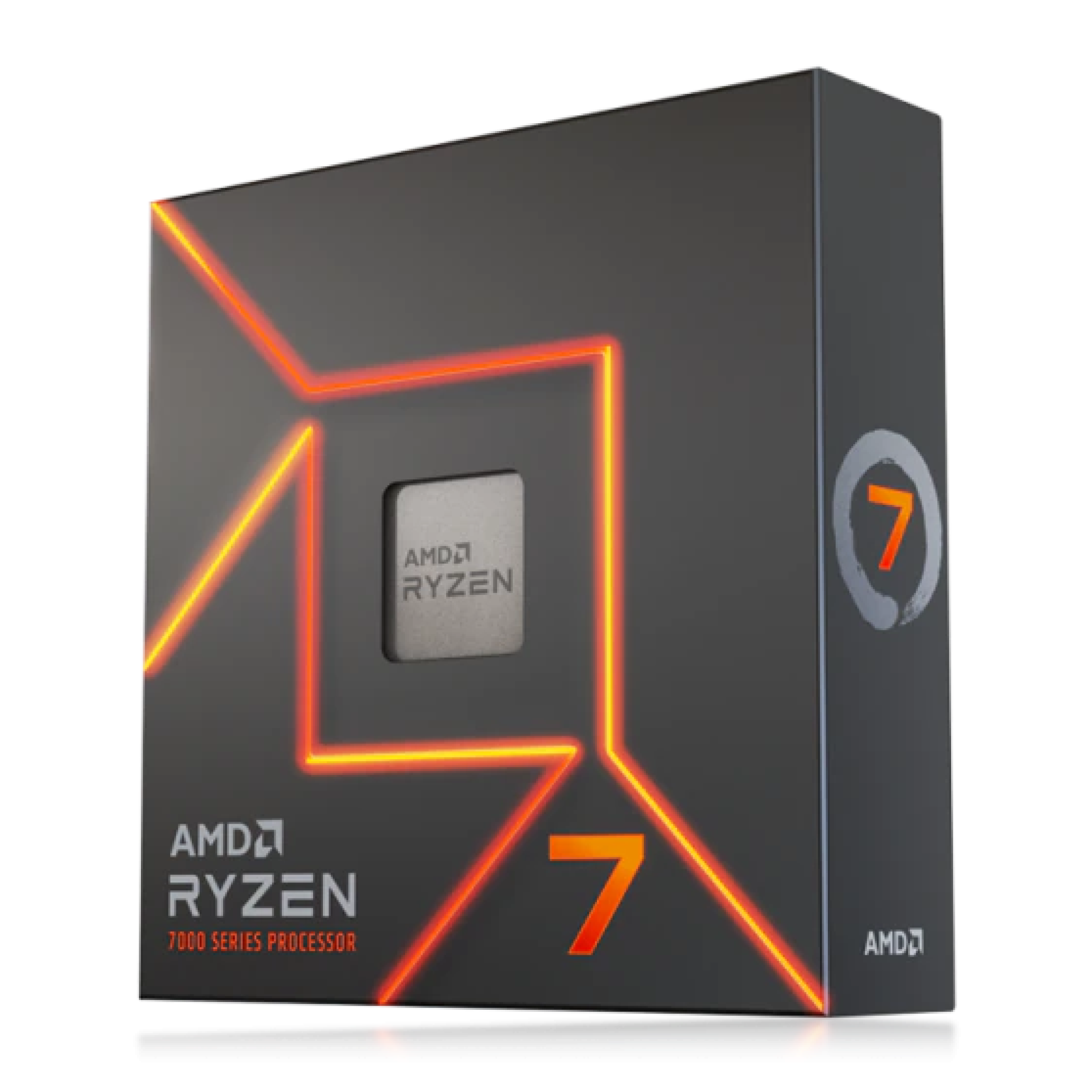 AMD Ryzen 7 7700X
Best CPU
Best balance between performance and price
The AMD Ryzen 7 7700X is one of the most powerful processors on the market right now, with 8 cores and 16 threads for top-tier desktop performance.
Pros
Good gaming performance
Better multi-threaded performance than the 7600(X) for not much more
Cons
Not a great deal when the 7700 is in stock
Even though Ryzen 7000s went on permanent sale late last year, they're still not cheap compared to Intel's 13th-generation counterparts. What makes choosing the right Ryzen CPU even harder is that there's a $100 gulf between AMD's 8-core 7700X and the 12-core 7900X, and the performance gap between these two CPUs is just as large. We've decided to go with the 7700X since the four extra cores won't really matter on a gaming PC and because the budget (which is already big) would be much higher with the 7900X.
The 7700X, at its core, is mostly an improved Ryzen 7 5700X or 5800X. It has the same core count and the same amount of L3 cache, but uses the newer Zen 4 architecture and is produced on TSMC's 5nm node, which enables a much higher boost clock of 5.4GHz. Ryzen 7000 CPUs also support DDR5 and PCIe 5.0, though not all 600 series motherboards are guaranteed to support PCIe 5.0 and may just go up to PCIe 4.0.
For gaming, the 7700X is actually pretty good and is about as fast as any other Ryzen 7000 non-X3D chip. It lags behind the Ryzen 9 7950X3D (and presumably the as-of-yet unreleased Ryzen 7 7800X3D) but unless you're gaming at 200 FPS or more, you probably won't see a performance difference. As for productivity, the 7700X isn't very impressive. The 7900X is about 50% faster in multi-core applications (not surprising since it has 50% more cores) but at least the single-threaded performance of the 7700X is about the same as other 7000 series CPUs.
If you want to save a little money, there's the Ryzen 7 7700 (without the X), and it has about the same performance as the 7700X for a supposedly cheaper price. We say "supposedly" because it's tough to find for much less than the 7700X at the time of writing. The 7700 becomes a worthwhile alternative when you're saving $20 or more.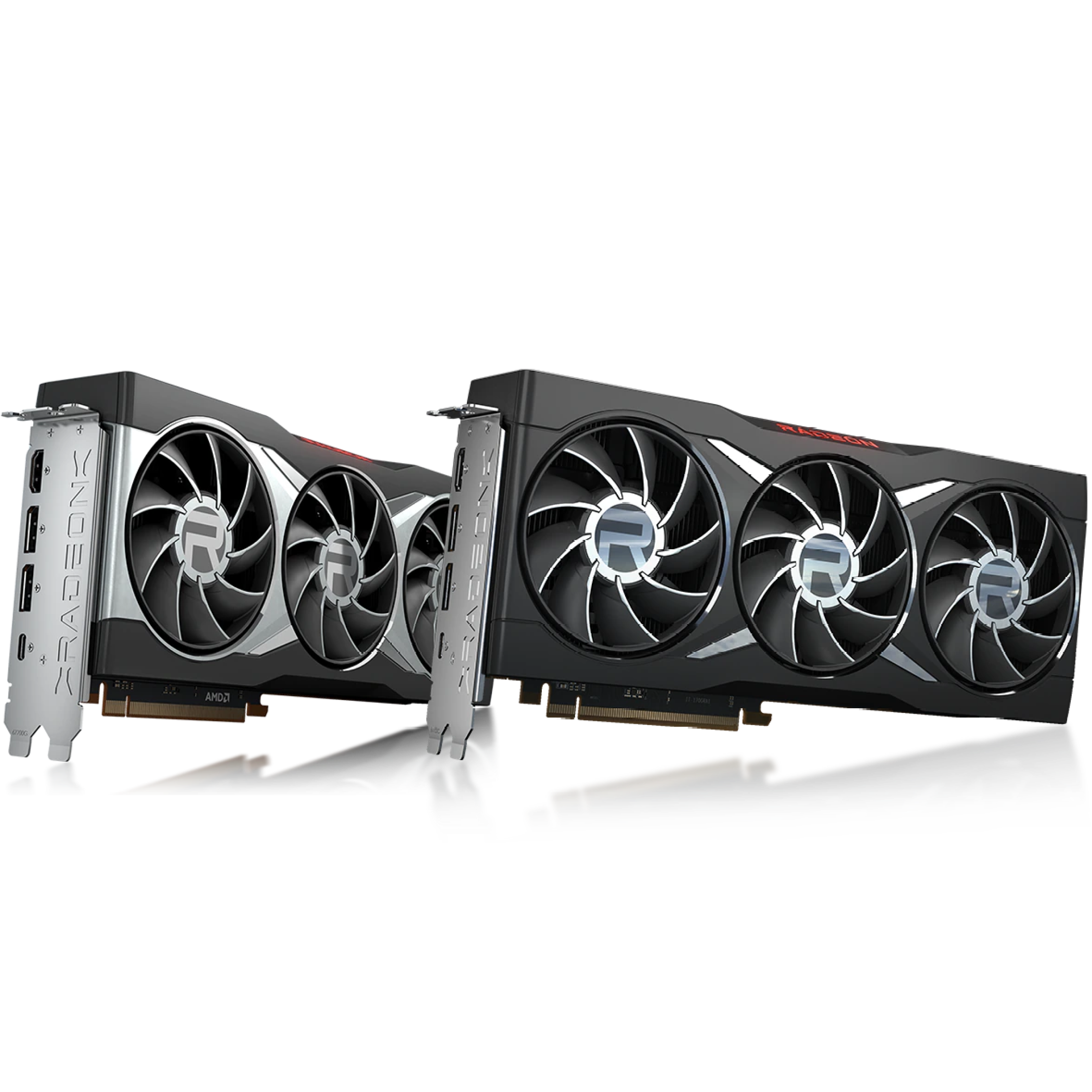 AMD Radeon RX 6800 XT
Best high-end GPU
Features without exceeding your budget
The RX 6800 XT is the best graphics card in the 6000 series. It's identical to the RX 6900 XT except for having a few less cores and slightly lower clock speeds.
Pros
Great at 4K and 1440p gaming
Good value compared to RTX 30, RTX 40, and RX 7000 cards
Supports FSR 2 and other non-gaming features you might like
Cons
Poor ray tracing performance
Over two years old
GPU prices have been out of whack for years, and at the time of writing that hasn't changed. The latest generation of GPUs started almost half a year ago, and the cheapest model you can find is $800 at minimum. We're left recommending AMD's RX 6000 series from 2020, but these cards at least offer a reasonable price-to-performance ratio. If you're buying a high-end AMD GPU, the RX 6800 XT is probably the best option, and it could cost you around $600 or even less.
The 6800 XT was AMD's number 2 GPU from 2020, with 72 Compute Units (or CUs) out of the maximum 80 that you'd see on the RX 6900 XT. However, it has 128MB of Infinity Cache and 16GB of GDDR6 just like the 6900 XT, which means the 6800 XT will theoretically have at least 90% of the performance of the 6900 XT whether it's games or professional applications.
In actual gaming benchmarks, we see that the 6800 XT barely lags behind the 6900 XT, as expected. It's also quite competitive against the RTX 3080 and even the RTX 3090, especially at lower resolutions, though obviously, you're not considering those cards for an all AMD build. But perhaps you might consider the RX 7900 XT, which is about $250 to $350 more expensive. We'd recommend against the 7900 XT since it's only about 25% faster according to most reviews, and enlarging the budget to over $2,000 just for that isn't worth it.
The 6800 XT really only has one problem: supply. When it's in stock, it's possible to find them for less than $600 (at the time of writing there are some models for $550), but the supply situation is pretty volatile, and individual models go up and down in price fairly regularly. If you're struggling to find a 6800 XT, the RX 6800 is a viable alternative that's usually on sale for less than $550 with slightly lower performance. There's also the 6900 XT and 6950 XT, which are slightly faster than the 6800 XT and can be found for less than $700 if you're lucky.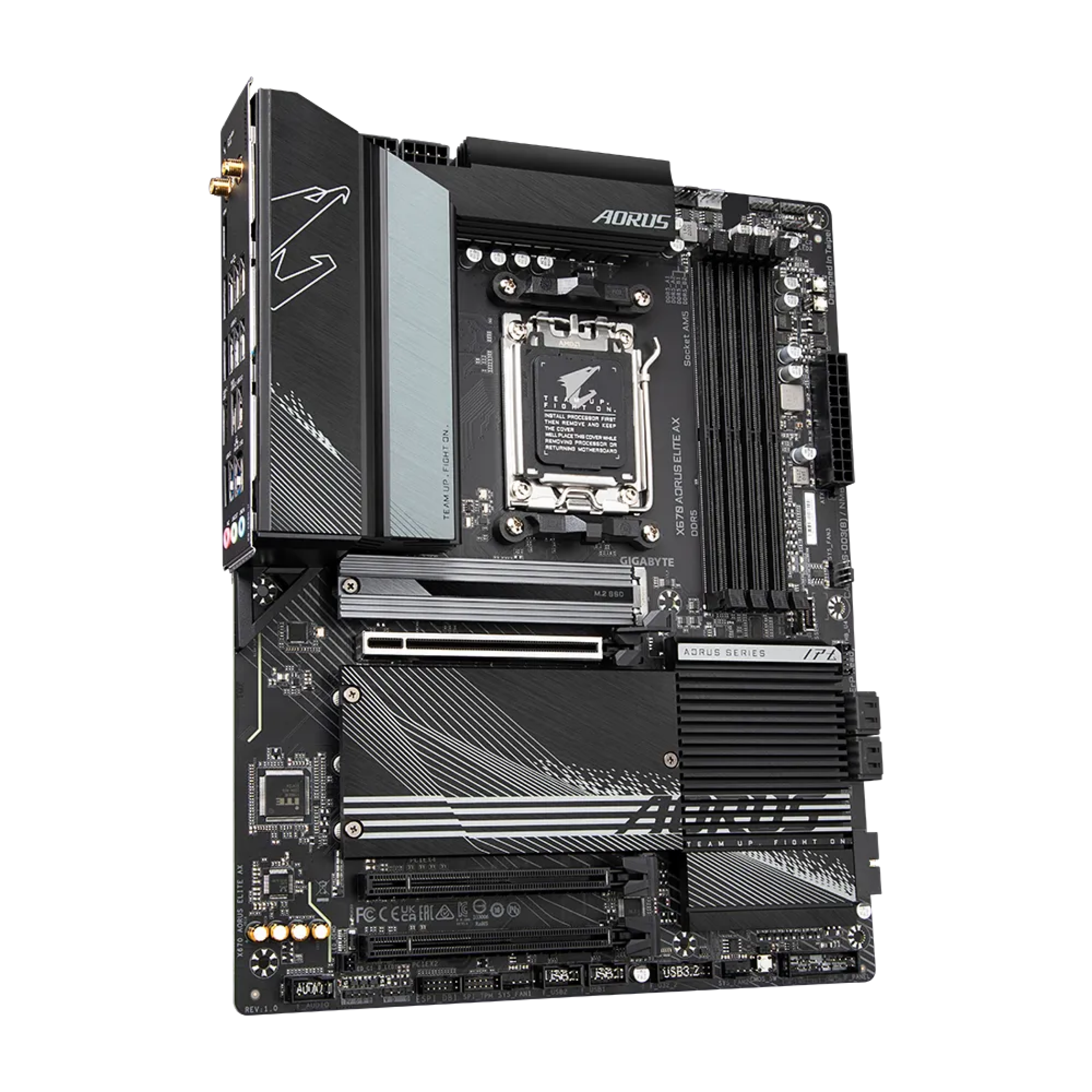 GIGABYTE X670 AORUS Elite AX
Best X670 motherboard
The Gigabyte X670 Aorus Elite AX has the essentials for a high-end gaming PC, including support for DDR5-6666 memory, four M.2 slots for SSDs (one of which supports PCIe 5.0), and a 16-stage VRM.
Pros
Support for 6666MHz DDR5
16 phase VRM for high-end CPUs
Four M.2 slots, one of which has PCIe 5.0 SSD support
Cons
Realtek Ethernet instead of Intel Ethernet
AMD's new 600 series motherboards are more expensive than previous generation 500 series boards, which doesn't help the whole pricing issue Ryzen 7000 has, but that's only problematic for people on a tight budget. In the market's upper midrange to high-end segment, motherboards have a pretty good feature-to-price ratio, and Gigabyte's X670 Aorus Elite is one such option. At $270, it's not terribly expensive for what it offers, and it should provide a good foundation for a PC that you'll potentially upgrade many times down the line.
One of the Aorus Elite's biggest selling points is its robust 16+2+2 stage VRM, and although that's a bit overkill for the 7700X, it opens up the possibility of upgrading to the 7900X, 7950X, or a next-gen high-end Ryzen CPU. The other big selling point is M.2 slots; this motherboard has four. One of these slots is even PCIe 5.0 enabled, which is great if you're planning on picking up a PCIe 5.0 SSD in the future.
The rear I/O is also exceptional for the sub $300 segment. There are nine USB 3.2 ports (one of which is Type C Gen 2×2 for high data transfer rates) and four USB 2.0 ports, which almost ensures you'll never run out of room for peripherals. There's also a Wi-Fi 6 card on the AX model and 2.5 gigabit Realtek Ethernet (we'd rather have Intel but whatever).
Even more expensive and premium motherboards won't offer much more than the X670 Aorus Elite. Sure you could get an X670 or X670E board with PCIe 5.0 on the x16 slot for graphics or more PCIe 5.0 for SSDs or an extra M.2 slot or better Ethernet, but it's not worth it for a machine focused primarily on gaming. $270 for this motherboard is a pretty good deal, and we haven't found any other X670 motherboards that achieve this level of bang for your buck.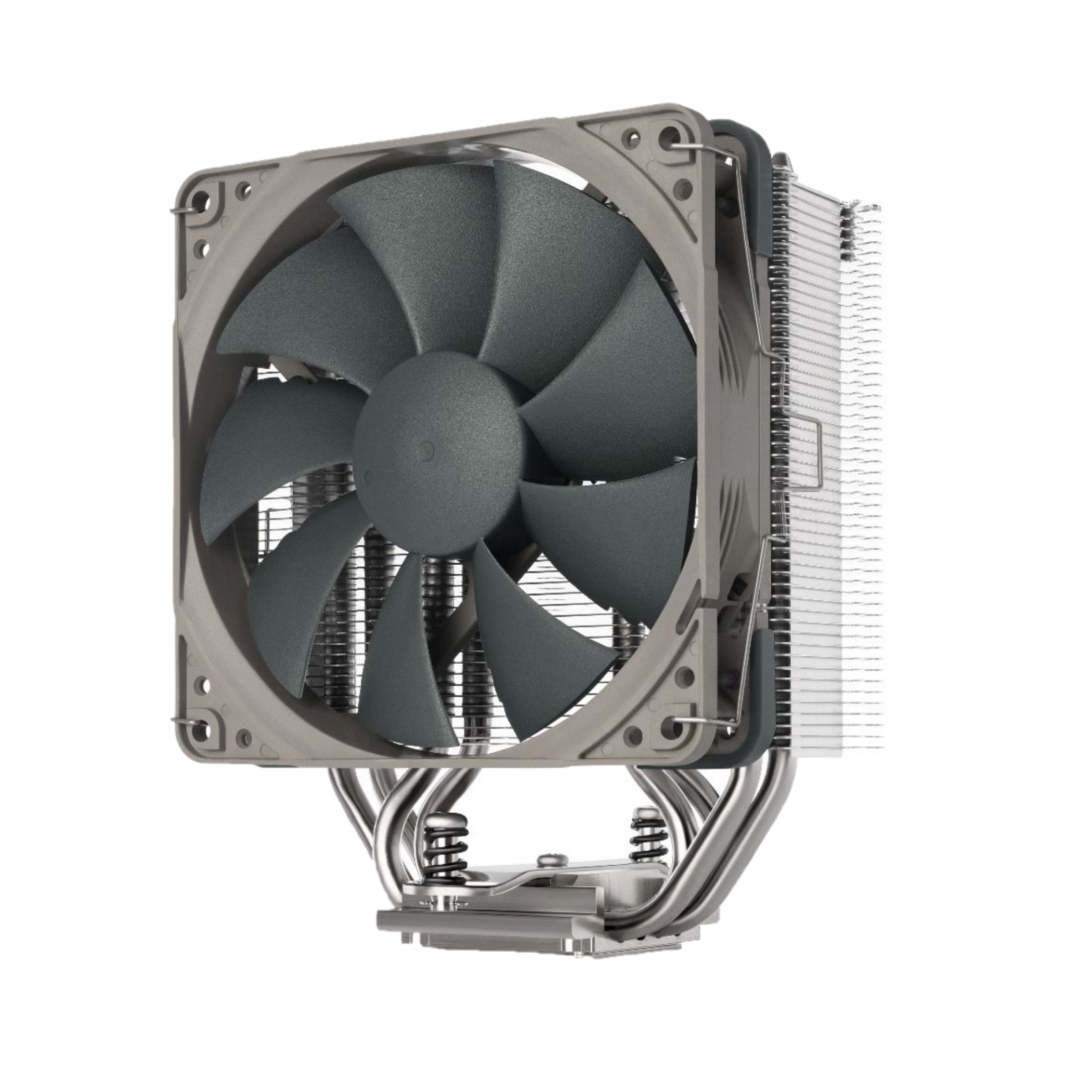 Noctua NH-U12S Redux
Best cooler
Cooling the 7700X and higher-end chips
Noctua's NH-U12S Redux is a midrange air cooler for midrange to high-end CPUs. It comes with a single 120mm fan and is 158mm tall.
Pros
Best performing cooler in its price bracket
Not too large
Cons
Might not cool well enough to allow the 7900X and 7950X to perform at 100%
One of the nice things about the 7700X and other Ryzen CPUs is the power efficiency. These chips sip power. Generally, you won't care about power consumption on a desktop, but in this case, it means we can opt for a smaller, cheaper cooler, something you can't afford to do with Intel's 12th- and 13th-generation CPUs. Noctua's $50 NH-U12S cooler is good for Ryzen 7000 in general and helps keep the budget under control for this build.
The U12S is a tower air cooler with a single fan that doesn't take up much space compared to Noctua's higher-end coolers like the NH-D15. That means less cooling capacity, but this is where you're saving money, and having a smaller cooler can be more convenient for building and maintenance. According to Noctua, the U12S is rated for medium turbo or overclocking headroom on even the Ryzen 9 7950X, which means it should cool the 7700X just fine and will leave a good upgrade path for you in the future.
Still, the NH-U12S Redux's relative lack of cooling capability could result in higher temperatures and noise levels that you wouldn't see with a higher-end cooler that costs closer to $100. We think it's worth saving the $50 here, though, and if you're worried about hitting high temperatures, there's always options like enabling Eco Mode, which disables some of AMD's auto-overclocking features, or you can set a lower temperature limit via the motherboard BIOS options.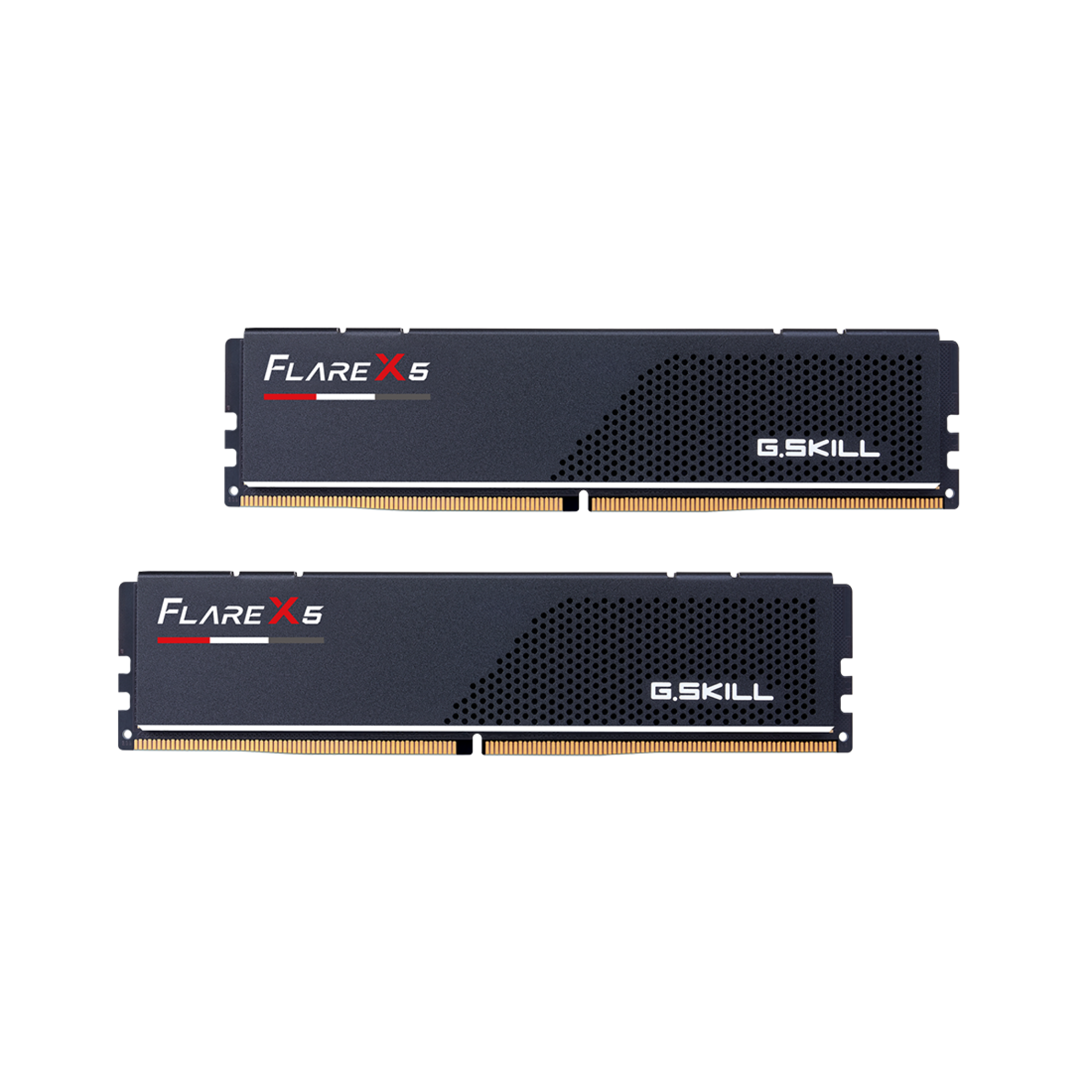 G.Skill Flare X5 Series
Best RAM
Specifically made for Ryzen CPUs
G.Skill's Flare X5 Series is DDR5 memory specifically made for Ryzen CPUs and comes with an EXPO memory profile. There are various models that are rated anywhere from 5200MHz to 6000.
Pros
High-end frequency and CAS latency
Not particularly expensive for its capacity and performance
Low profile heatsinks
Cons
Objectively expensive even if it's a good deal
While DDR5 is the newest standard, it's almost two years old, so there are plenty of choices available. However, DDR5 usually only comes in kits of 32GB, and it's already much more expensive than DDR4 per gigabyte, so it's important to choose a good kit that's worth the money. With support for AMD EXPO (basically XMP for Ryzen) and good performance, G.Skill's Flare X5 Series is probably the best DDR5 you can buy for Ryzen CPUs.
Like with most memory kits, Flare X5 comes in different combinations of frequency and CAS latency (or CL). The specific kit we recommend is the 32GB one rated at 6000MHz and CL36, which isn't quite the highest-end kit but costs around $120, which is pretty good for DDR5 in the current market. Other than the solid performance and relatively low price of the Flare X5, there's also the fact that the heatsinks are low-profile, which can be an issue for some coolers. There's also no RGB, which might be a pro or a con depending on your preferences.
Since DDR5 is one of the most expensive items for any Ryzen PC build, you might decide that the Flare X5 series is just too expensive. If that's the case and you're looking for alternative memory, keep a few things in mind. Firstly, 32GB isn't necessary for gaming, so getting a 16GB kit is perfectly fine. Secondly, no matter the capacity, always get two sticks since running with just one results in lower performance. Finally, try and get a kit that at least has a frequency of 5200MHz and CL40, anything worse than that shouldn't really be in a high-end PC.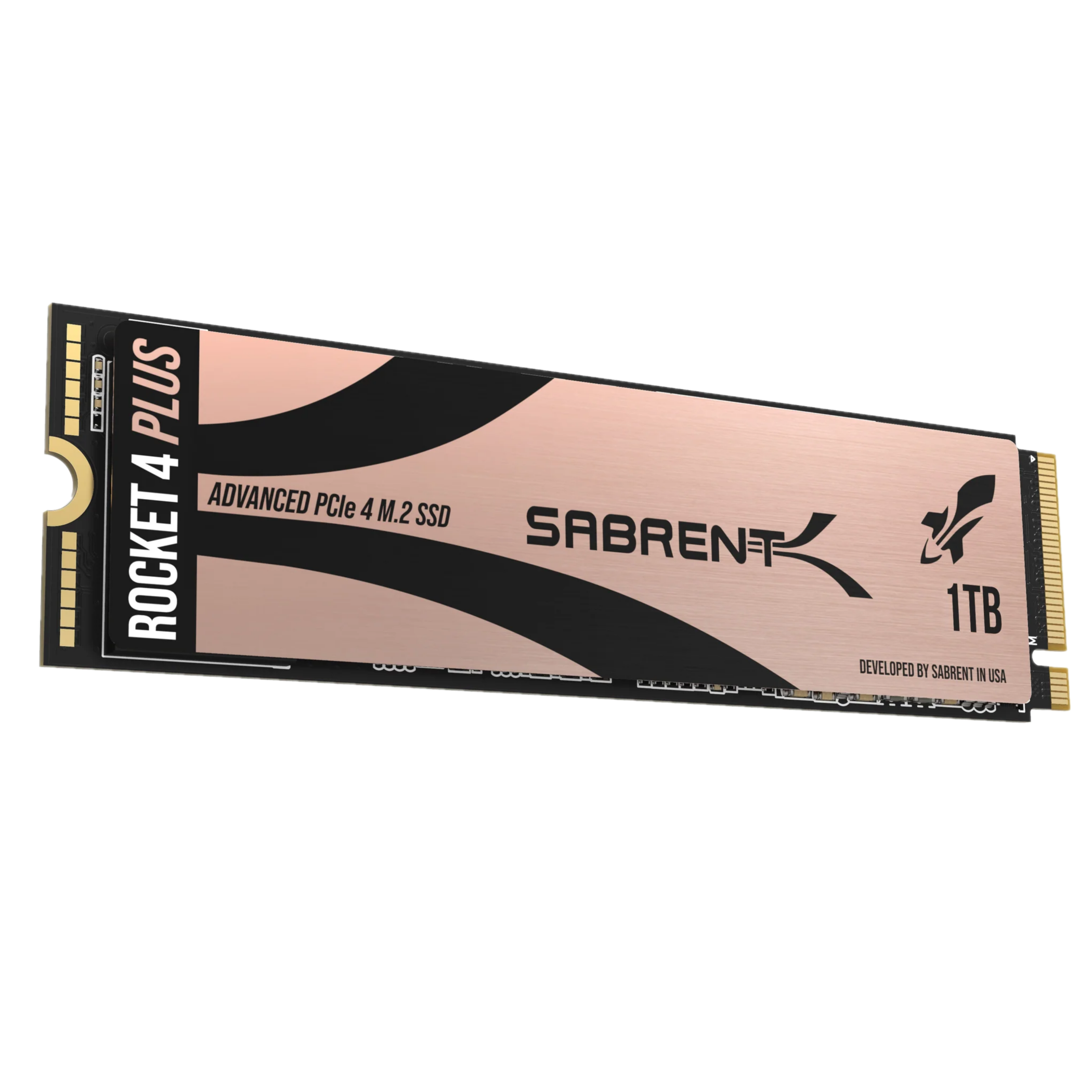 Sabrent Rocket 4 Plus
Best PCIe 4.0 SSD
The Sabrent Rocket 4 Plus is a midrange PCIe 4.0 SSD with a balance of value and speed.
Pros
Good capacity for the price
High-end performance
Cons
Not quite the fastest PCIe 4.0 SSD
Storage has never been cheaper, and you can get 1TB SSDs these days for less than $100. At exactly $100 at the time of writing, the 1TB model of Sabrent's Rocket 4 Plus provides both upper midrange to high-end performance and enough capacity for a decently large library of games. You can get away with 1TB of total storage on a gaming PC, but you might want to pick up either an extra SSD or HDD or a larger size of the Rocket 4 Plus if you know you'll need more space.
Higher capacity models of any SSD have higher levels of performance, but the baseline amount with the 1TB model is sequential reads and writes of 7,000MB/s and 5,800MB/s, respectively. Higher capacity models have basically the same reads, but an extra 1,000MB/s writes. Still, even the 1TB model has relatively high-end performance, and its read speed is almost top-notch. Additionally, the 1TB model has a rated endurance of 700TBW, which is fairly good.
There is a $60 500GB model, but we don't recommend it. Not only is the performance much lower, but the $40 saved on it is also barely even enough for a 1TB HDD. At that point, the performance you're losing isn't really worth the extra capacity. The 1TB and 2TB models offer the best balance between value and performance.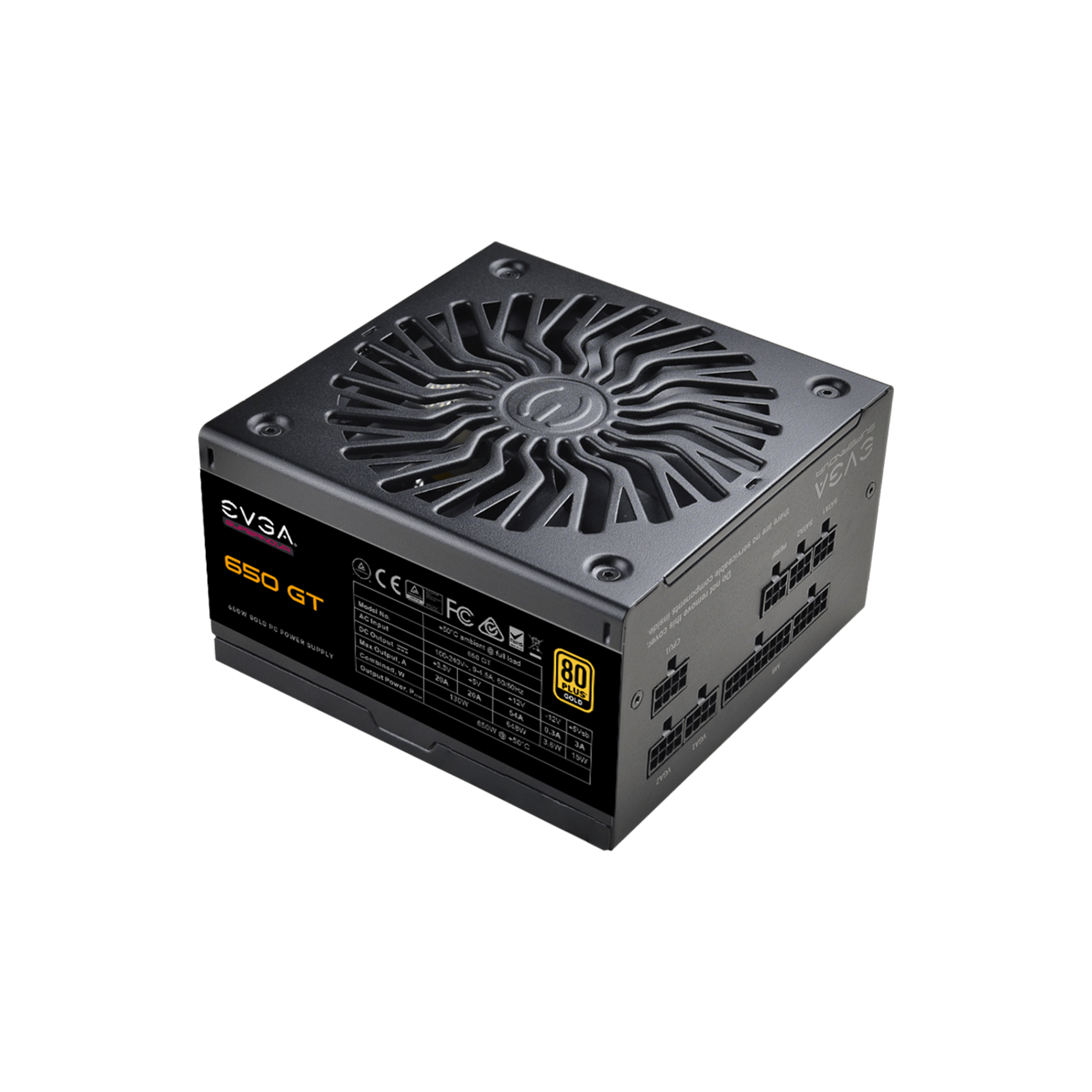 EVGA SuperNOVA 650 GT
Best PSU
EVGA's SuperNOVA GT 650 is a power supply rated for 650 watts and carries a 80 Plus Gold efficiency certification.
Pros
Made by EVGA, one of the best PSU manufacturers
650 wattage and 80 Plus Gold rating
Extra accessories like velcro ties
Cons
Price varies over time and depending on the retailer
The power supply is perhaps the component in your PC that'll be around the longest, and it's important that a PSU for a high-end PC can handle components, both current and future, that might consume lots of power. However, since Ryzen CPUs have relatively low power consumption, we feel comfortable recommending EVGA's SuperNova 650 GT, a 650 watt PSU that will help shave a few dollars off the budget.
There are four major considerations to make when it comes to buying a PSU: the brand, the wattage, the rating, and modularity. EVGA is one of the biggest names in PSUs next to Corsair and Seasonic, so we're good so far. 650W is a little low for a high-end PC, but unless you're planning on upgrading to an RTX 4090 and a 7950X, you should be good. The 650 GT has a Gold 80 Plus certification and is modular, which means it's good on pretty much every point that matters.
However, the SuperNOVA 650 GT (like many other PSUs) is in a finicky supply situation. At the time of writing, this model is about $79 at Newegg and $110 at Amazon, which is a pretty big price difference. We can't say for sure what price point this model usually sticks to, but 750 and 850W power supplies cost anywhere from $20-$50 more, so we're recommending a 650W PSU like EVGA's.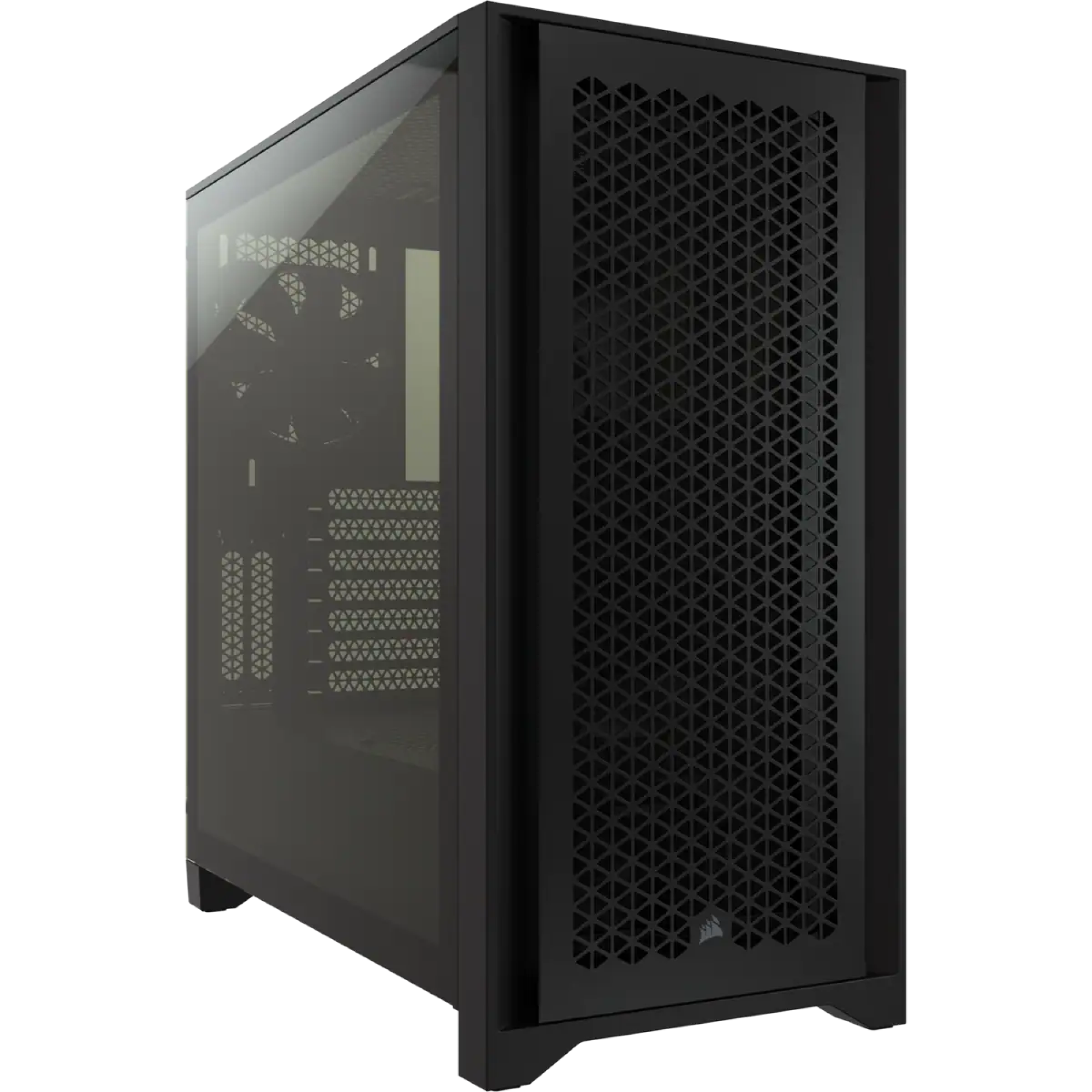 Corsair 4000D Airflow
Best case
Balance between performance and value
The Corsair 4000D AIRFLOW is one of the best airflow cases you can buy to have a full front-to-back airflow for your components. It comes pre-installed with two RGB 120mm fans.
Pros
Good front intake airflow
Support for 360mm radiators
Tempered glass side panel
The case is the most customizable part of this build, and as long as everything is compatible, it's your choice as to what case you go with. There's almost an endless supply of chasses, each unique in its own way. For this build, we recommend an upper midrange or high-end case like Corsair's 4000D Airflow, which costs just under $100 and provides everything you need for the build we've recommended, plus it features some upgrades for down the line.
The 4000D is definitely function over form. It comes in either solid black or white with some gray accents sans RGB. You can get versions of both themes with three RGB fans in the front if you desperately need some color in your PC, but these versions cost an extra $50 or so. Both colors also come with a tempered glass side panel; the one on the black model is tinted dark, while the one on the white model isn't tinted at all.
The main reason we're recommending the 4000D Airflow here is its focus on airflow (hence the name). The front panel is perforated and comes with a dust filter, which is crucial for good intake airflow. Additionally, there's support for a 360mm radiator at the front and a 240mm or 280mm radiator on the top, and although we haven't recommended a liquid cooler for this build, it's nice having the option to switch to one if you want or need to. The 4000D's only disappointing quality is that it comes with just two fans; we recommend picking up a couple more for the front intake.
You don't have to get the 4000D Airflow if it's not to your liking, but try and get a chassis that's similar to it. The ideal case for this kind of build will have room for a 360mm radiator, good intake and exhaust airflow, a dust filter for the main intake, and a generally good build quality. You should check our recommendations for cases with great airflow and mid-tower chasses if you're not sold on the 4000D.
Premium AMD PC build guide: Price breakdown
Here's a quick breakdown of the pricing for this particular build. It goes without saying the prices are subject to change based on the availability of each component. The price of the RX 6800 XT is particularly volatile, and there aren't always a ton of models to choose from. Other components like the 7700X and EVGA SuperNOVA (or any CPU or PSU, for that matter) may also see smaller price fluctuations in the tens of dollars.
| Component | Listed Price |
| --- | --- |
| AMD Ryzen 7 7700X processor | $335 |
| AMD Radeon RX 6800 XT GPU | $550 |
| Gigabyte X670 Aorus Elite motherboard | $270 |
| Noctua NH-U12S Redux | $50 |
| G.Skill Flare X5 Series 32GB | $120 |
| Sabrent Rocket 4 Plus 1TB | $100 |
| EVGA SuperNOVA 650 GT PSU | $79 |
| Corsair 4000D Airflow mid-tower case | $105 |
| Total | $1,609 |
With a little bit of luck (especially when it comes to acquiring a GPU), you should be able to assemble this exact PC or something like it for just under $1,700. For gaming, it's hard to ask for anything more without seriously increasing the budget, and it's not necessary to buy the RTX 4090 or RX 7900 XT/XTX if you want a high-end or upper-midrange experience. But the GPU isn't the only factor in the budget here: Ryzen CPUs, AMD 600 series motherboards, and DDR5 RAM are expensive. We built an Intel gaming PC with higher productivity performance for $100 less, albeit with a slightly slower GPU.
Peripherals are also important to consider for both the gaming experience and the budget of your entire gaming setup, but since they're outside the PC itself we're not making any suggestions within this guide. However, we do have separate lists for the best mice, keyboards, and headsets if you're getting more than just a new PC. Additionally, you can join the XDA Computing forums if you want a second opinion.