The best portable SSDs provide a convenient and speedy solution to a lack of storage on your favorite devices. Great SSDs are usually more expensive than hard-disk drives, though they have no moving parts for a slimmer build and tend to be quite a bit faster. When buying a portable SSD, you'll generally want to focus on drive speed, connection type, capacity, price, and durability. Incorporating these considerations into your final purchase should land you a great SSD that will help you transfer, store, and even secure your most important data. Here are a bunch of the best portable SSDs on the market right now to help you buy the right drive.
Our favorite portable SSDs in 2023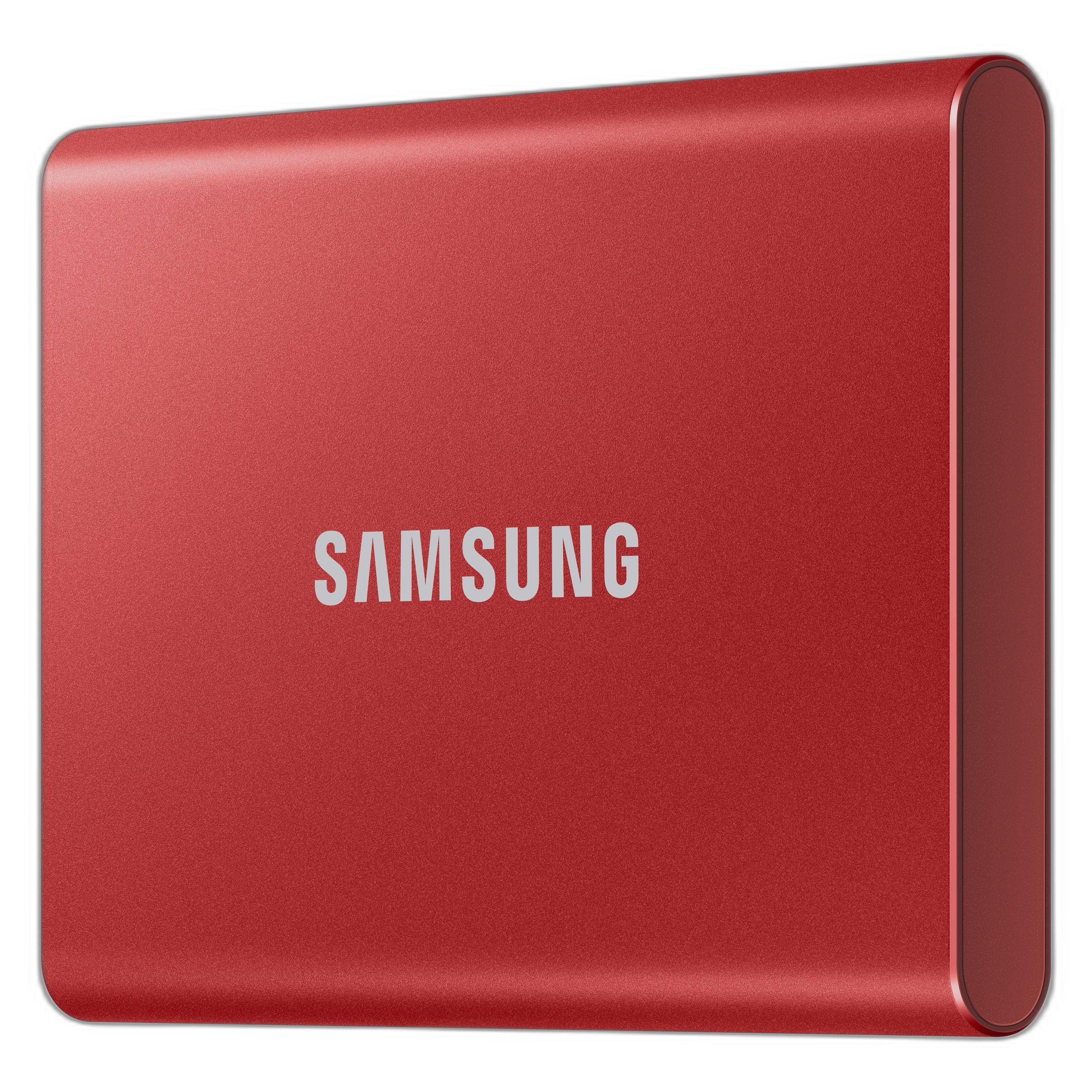 Samsung T7 Portable SSD
Best overall
Best all-around SSD for most people
$70 $90 Save $20
The Samsung T7 is our pick for the best portable SSD you can buy in the market right now. There's also a variant of this SSD with a fingerprint reader for advanced users who're looking for more security.
Pros
500GB, 1TB, 2TB capacities
256-bit AES encryption
Super compact and fast
Three-year warranty
Cons
Missing some security and durability features
Samsung took its sweet time to deliver a successor to the very well-received T5, but the new T7 ended up being a worthwhile upgrade. The Samsung T7 is one of the best SSDs you can buy in the market right now. It's available in 500GB, 1TB, or 2TB capacities with Indigo Blue, Titan Gray, and Metallic Red color schemes. These drives are made from a solid chunk of aluminum that's sleek enough to slip into a pocket or sleeve while you're on the move, yet they only weigh in at about two ounces.
On one end is a USB-C 3.2 (Gen 2) port for transfer speeds up to 10Gbps; Samsung claims up to 1,050MB/s read and 1,000MB/s write speeds, and in practice that's often achievable. The only real drawback to the Samsung T7 is its lack of an IP rating for extra dust and water resistance. However, Samsung does make a T7 Shield variant available in 1TB and 2TB capacities. It adds IP65 water and dust resistance as well as almost 10 feet of drop resistance thanks to a rubberized shell that encases the entire drive. Our Samsung T7 Shield portable SSD review has much more information on this rugged drive.
And if you're less concerned about environmental and drop protection and want to focus more on security (above the hardware-based encryption that comes with each drive), the T7 Touch variant takes the standard T7 and adds a fingerprint reader for biometric tap-ins. This means that only your fingerprint can get you into the drive, and it's much more convenient than having to type a password each time. All drives come at a competitive price and they often go on sale during big events at online retailers, helping propel them to the top of this list.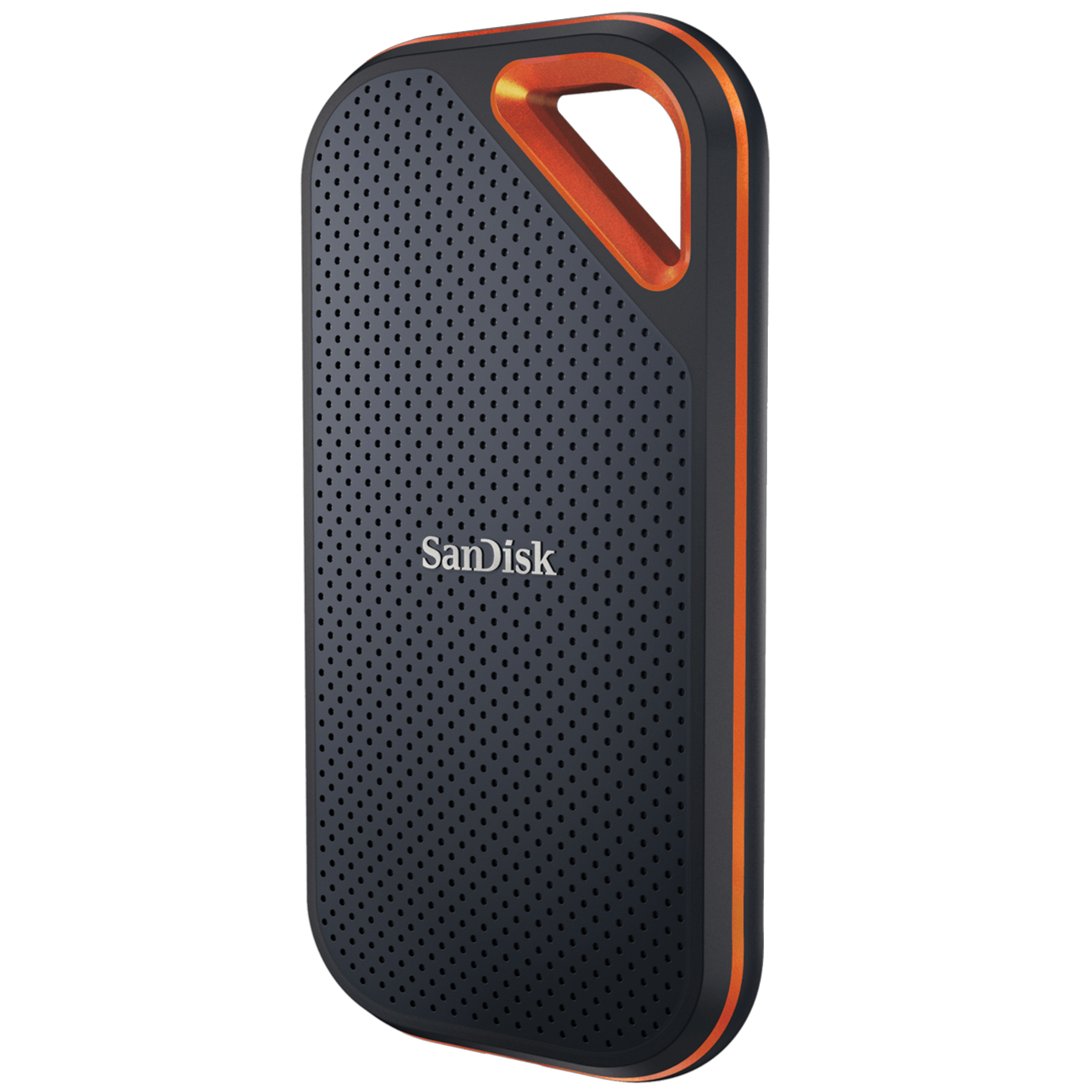 SanDisk Extreme Pro V2 SSD
Best for professionals
High-end portable and durable SSD
The SanDisk Extreme Pro V2 portable SSD is the right choice for professionals who need the extra transfer speeds and extra durability. Just be sure your device can handle the USB 3.2 (Gen 2×2) to maximize its potential.
Pros
IP55 water and dust resistance
Up to 2,000MB/s speeds
256-bit AES encryption
Five-year warranty
Cons
Requires USB 3.2 (Gen 2×2) for full performance
Large capacities get expensive
SanDisk is also a popular name in the SSD space with a wide variety of storage on the market. However, the one we think deserves a spot in our collection is the SanDisk Extreme Pro V2. It's a fast, secure, and durable portable SSD that uses a USB 3.2 (Gen 2×2) interface to deliver up to 2,000MB/s of sequential throughput. This is a great option for professional users, in particular photographers and those who work outdoors. It has an IP55 water and dust-resistant rating and the drive is also rated to withstand a two-meter drop. It lives up to its rugged appearance.
The SanDisk Extreme Pro V2 comes in 1TB, 2TB, and 4TB capacities, all backed by a lengthy five-year warranty. When used with a USB 3.2 (Gen 2×2) host device, the Extreme Pro V2 can deliver up to 2,000MB/s for both read and write. It features an SLC drive cache to absorb most of the inbound write data to increase the speeds. However, the performance will degrade during long transfers as the cache gets filled. This is a common caveat for high-performance SSDs that use SLC cache for momentary speed benefits.
The Extreme Pro V2 SSDs features AES 256-bit hardware-encrypted password protection, a significant upgrade over the rather underwhelming software-based AES 128-bit encrypted password protection on the previous version. This ensures the new drive offers better protection and quick access to the drive on both macOS and Windows. You also get a USB Type-C cable and USB Type-C to Type-A cable with the drive along with easy-to-use security management software.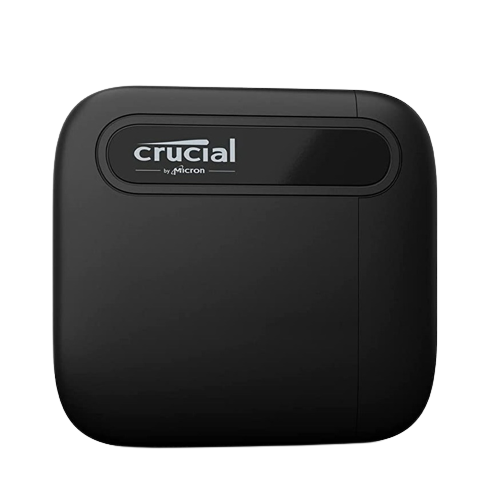 Crucial X6 Portable SSD
Best value
Don't overspend on storage
$60 $80 Save $20
Need some speedy storage on the cheap? Crucial's X6 might not be as fast as some of the more expensive options, but it still hits 800MB/s and comes in affordable 500GB, 1TB, 2TB, and 4TB capacities.
Pros
Affordable pricing
Three-year warranty
500GB, 1TB, 2TB, 4TB capacities
Super compact
Cons
Speeds top out at 800MB/s
Crucial makes some of the most affordable PC storage out there, and its portable storage is also a good bet if you're looking to spend less and still get a great product. The Crucial X6 is a compact portable SSD that comes in 500GB, 1TB, 2TB, and 4TB capacities, all with a very competitive price. The 500GB model starts around $50, while the 4TB version is about $240 depending on where you shop. Even the mid-range 1TB and 2TB options are cheaper than a lot of the other portable drives out there today.
Despite the value pricing, the Crucial X6 is super compact and lightweight, it can withstand drops up to 6.5 feet (two meters), and it can hit transfer speeds up to 800MB/s (the 500GB model tops out at 540MB/s). These specs should be enough for a lot of people who don't want to overspend and just want some reliable storage around for when it's needed.
The Crucial X6 works across multiple devices (including PC, Mac, Android, and consoles) and has a USB-C 3.1 (Gen 2) connector that's backwards compatible with older versions (as well as USB-A).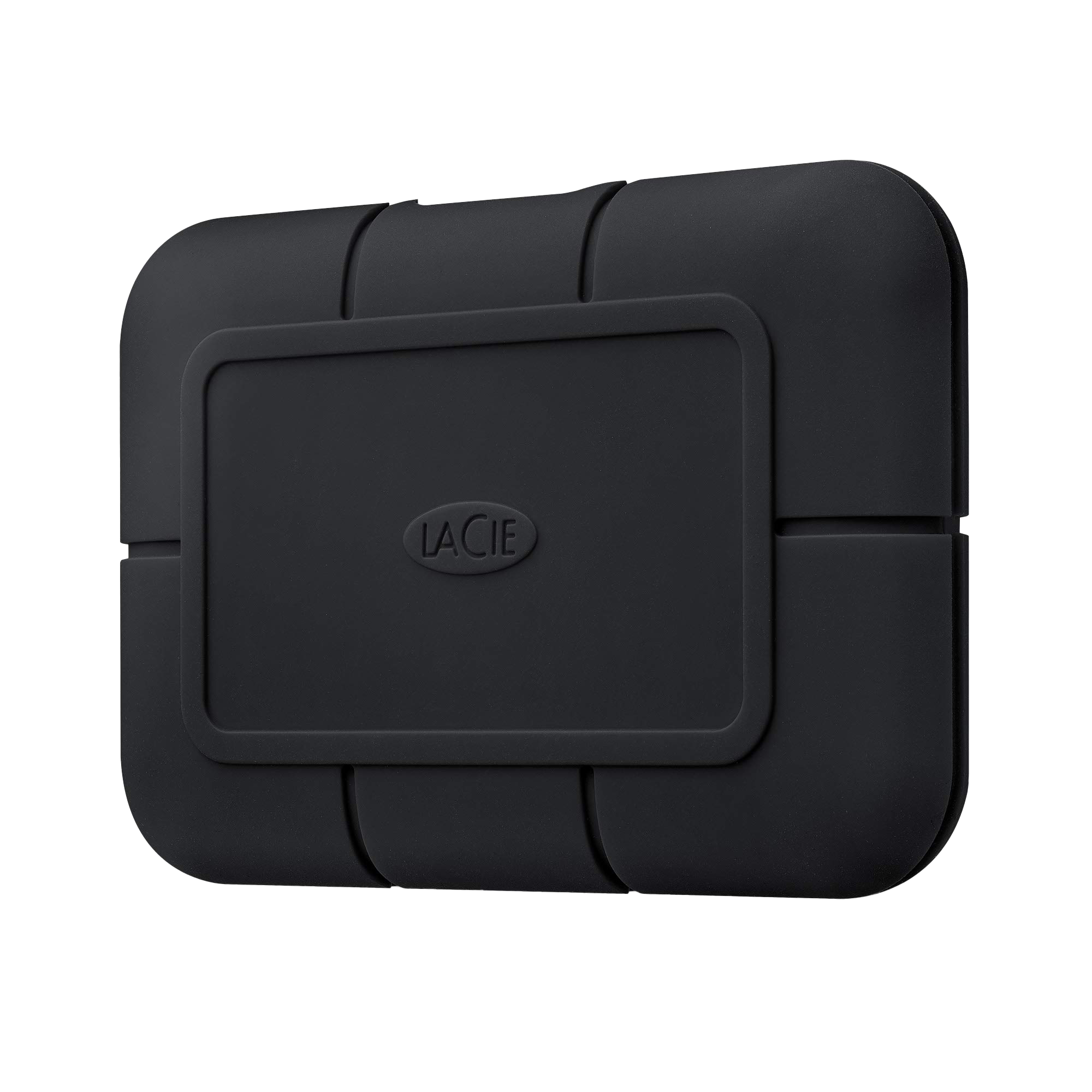 LaCie Rugged SSD Pro
Best Thunderbolt
Extra-fast transfers
The LaCie Rugged Pro is one of the best SSDs you can buy if you're someone who tends to be on the move all the time. It uses Thunderbolt 3 interface to deliver 2,800MB/s and 2,300MB/s read and write speeds respectively, and it comes with a bevy of durability assurances.
Pros
Up to 2,800MB/s read speed
Five-year warranty
1TB, 2TB, 4TB capacities
Aluminum case with IP67 rating
Cons
More expensive than USB-C options
The LaCie Rugged Pro SSD combines a Seagate FireCuda NVMe SSD with a Thunderbolt 3 interface (also compatible with newer Thunderbolt 4 and USB4) to deliver 2,800MB/s and 2,300MB/s read and write speeds respectively. And that means performance unlike any regular non-Thunderbolt portable SSD.
The LaCie Rugged Pro drive mounts the SSD inside an aluminum case that's dust, shock, and crush-resistant; it even has IP67 certification for water resistance. Additionally, the drive is also wrapped inside a silicone skin that adds more friction to improve the overall grip. It's compact and lightweight, and it's one of the most portable drives on the market.
The LaCie Rugged Pro SSD has a single USB Type-C Thunderbolt 3 port and it comes with a single USB-C-to-USB-C cable. The drive comes preformatted using exFAT, so it will work just fine with both PCs and Macs. Additionally, you also get a downloadable LaCie Toolkit, a five-year warranty, and five years of Rescue Data Recovery Services. The included toolkit will allow you to reformat the drive without any issues. This is a true go-anywhere SSD and perfect for those who demand the fastest performance.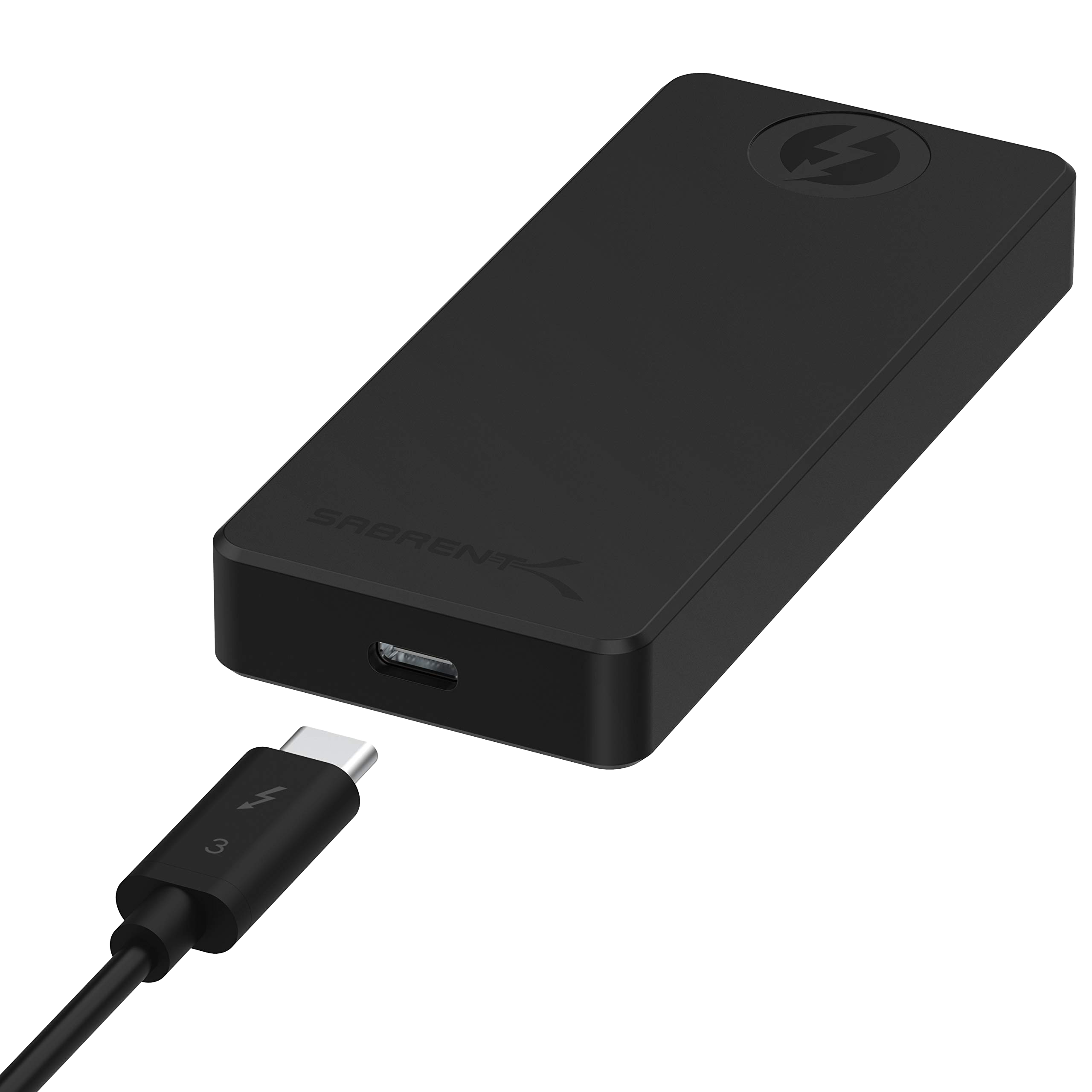 Sabrent Rocket XTRM-Q
Best capacity
Up to 16TB size
Sabrent has pushed the boundaries of fast flash and high capacity with the Rocket XTRM-Q 16TB SSD. It's one of the most portable SSDs on the market with this much onboard capacity, but it costs a pretty penny.
Pros
500GB, 1TB, 2TB, 4TB, 8TB, 16TB capacities
Three-year warranty
Up to 2,800MB/s via Thunderbolt 3
RAID and JBOD setups
Cons
Very expensive
Relatively large compared to some competition
If you're looking at these entries and wondering where the real portable drives start, you've found it. That's at least true if you're in need of a massive amount of storage in one relatively small package. Sabrent's Rocket XTRM-Q is available in up to a 16TB capacity, and while it's pricey there's really nothing else like it. You can also find it in 500GB, 1TB, 2TB, 4TB, and 8TB variants.
The new 16TB variant doubles the previous maximum 8TB capacity. Size and power requirements make it heavier than other options here, but that's a necessary drawback for this much storage. The new 16TB model has two Rocket Q M.2 NVMe SSDs behind a Thunderbolt 3 bridge. These things can get really fast, but they also tend to be very expensive. It offers sequential read speeds of up to 2.8GB/s over Thunderbolt 3 (forward compatible with Thunderbolt 4 and USB4), and it can be configured in RAID 0, RAID 1, or as JBOD.
The Rocket XTRM-Q comes with a USB-C Thunderbolt cable and a power brick to power the unit. Additionally, you also get Sabrent's RAID assistant software that allows you to easily configure the drive in RAID 0, RAID1, or JBOD setups. It comes with rubber feet to prevent sliding and two power/activity indicator lights. The XTRM-Q is powered by an Intel JHL6340 Thunderbolt 3 controller with two PCIe 3.0 lanes allocated to each of the SSDs. The drives support Trim and S.M.A.R.T. data reporting, but only with Thunderbolt. It's also worth making a note that the RAID functionality is not built-in via a hardware controller. It instead uses software RAID functionality built into Windows or macOS. Its target market may be small, but we're glad it exists all the same.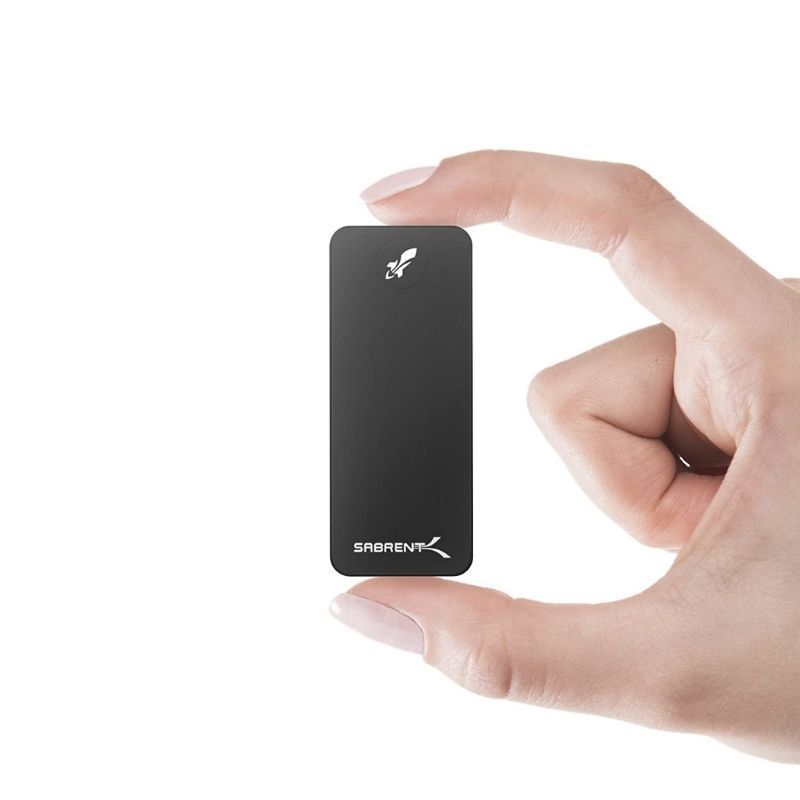 Sabrent Rocket Nano
Most portable
Tiny but mighty
The Sabrent Rocket Nano is about the smallest external SSD you'll find right now, but still packs a lot of performance and a ton of storage capacity.
Pros
Super compact
512GB, 1TB, and 2TB capacities
Up to 1,000MB/s
Three-year warranty
Cons
No extra durability certifications
Most portable SSDs are small, but the Sabrent Rocket Nano takes that even further. This teeny tiny SSD isn't much larger than a stick of gum despite boasting USB 3.1 (Gen 2) and a capacity up to 2TB. It's also available in six different colors, including Silver, Black, Gold, Blue, Red, and Pink. It'll fit in any pants pocket or any pocket on your laptop bag with ease.
Of course, size is irrelevant if it's not also a good SSD. Fortunately, that isn't an issue. The Rocket Nano's USB 3.1 (Gen 2) interface is good for read and write speeds up to 1,000MB/s so that you can quickly transfer even large files. You can use it without USB 3.2, but performance will be degraded. Inside is one of Sabrent's own DRAM-less SSDs based on Toshiba TLC NAND flash. So it's not only fast but also reliable.
There's nothing crazy going on around the outside of the Rocket Nano; it has a simple aluminum housing and not much else. There's no rugged design and no IP rating, so it's not really an outdoorsy product. You also get both a USB-C to USB-C and USB-A to USB-C cable included in the box for full compatibility with your computer.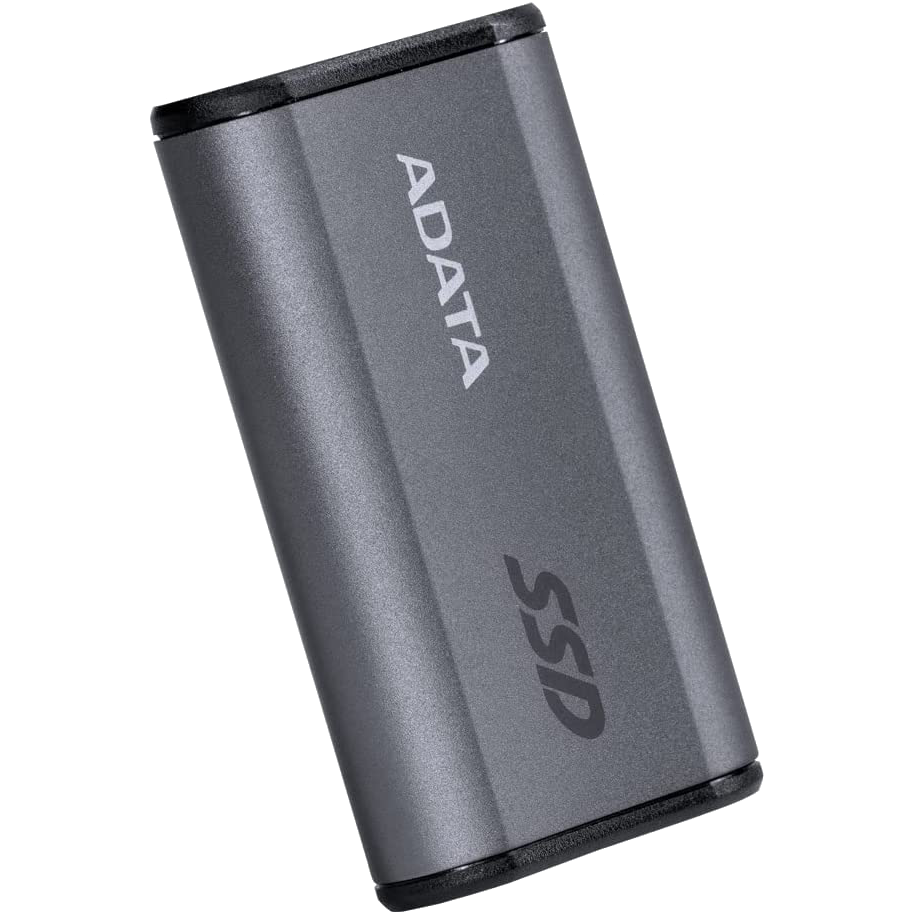 ADATA Elite SE880
Best for USB-C 3.2 (Gen 2×2)
Performance beyond 2,000MB/s
The ADATA Elite SE880 is a tiny SSD available in 500GB and 1TB capacities. It works with any USB-C port, but it can effectively double its performance (up to 2,000MB/s read and write) when connected to a USB-C 3.2 (Gen 2×2) port.
Pros
Can go beyond 2,000MB/s read speeds with USB-C 3.2 (Gen 2×2)
Lightweight and compact design
Five-year warranty
Host cable is removable
Cons
Only 500GB and 1TB options
Speeds top out around 1,000MB/s without USB-C 3.2 (Gen 2×2)
The ADATA Elite SE880 is a bit of a niche product, catered toward PC users with access to USB-C 3.2 (Gen 2×2). This goes beyond the common USB-C 3.2 (Gen 2×1) standard by offering read and write speeds up to 2,000MB/s. When I tested this SSD I had to pick up an extra PCIe expansion card for my PC just for the faster standard, but professionals, designers, and creators with workstations might already have it on board. And if your PC doesn't have the faster standard — or if it's using Thunderbolt 3 or 4 — the drive will default back to the USB-C 3.2 (Gen 2×1) standard of 1,000MB/s.
The SSD is very small, measuring just 2.55 x 1.38 x 0.48 inches and weight just 1.1 ounce. It comes with a five-year warranty, it's available in 500GB and 1TB capacities, and it has a five-year warranty help protect your purchase.
Buying the best portable SSD
There are plenty of portable solid-state drives on the market, and many aren't nearly as good as the ones we've rounded up here in this collection. In order to get the perfect portable SSD for your needs, be sure to consider these following features:
Drive speed: Solid state drives are inherently faster than hard-disk drives, but not all SSDs offer the same speeds. You should pick the ones with higher sequential speeds for transferring and backing up large blocks of data.
Connection type: We recommend picking up portable SSDs with USB Type-C (USB-C) connectors that are now replacing older USB Type-A ones. However, we've added a few drives that don't offer Type-C connectors as well for now. They tend to be more affordable, and you can use them with adapters or a separate cable.
Capacity: It's recommended that you pick up an SSD with at least 1TB of capacity to get the best value for your money. Lower capacity drives are typically more expensive per gigabyte. You'll spend more on a larger capacity, but you'll save money in the long run.
Price: Expensive drives on the market may offer faster speeds and all the latest features, but you don't necessarily need everything on offer. The Samsung T7 drive, for instance, isn't the fastest drive on the market, but it's still our best overall pick simply because it offers the best value — a good mix of useful features and reliable transfer speeds.
Durability: SSDs are less susceptible to failures than mechanical drives since they lack moving parts, but it's still important to consider the durable options if you're always on the move. You can also opt for a drive that comes with a silicone cover/case if you need extra protection.
There's no shortage of portable SSDs on the market right now, but the Samsung T7 is an ideal mix of portability, durability, speed, and competitive price. The Touch and Shield variants will come in handy if you need extra security or extra resilience, and all come in multiple capacities. Be sure to check out our Samsung T7 Shield review for more information. The other portable SSDs rounded up here also offer something for those shopping on a tighter budget, those who need extra speed, or those who are often outdoors.
Something like the Crucial X6 Portable SSD is great if you want to spend less and still get a great portable SSD. Speeds have an 800MB/s ceiling, but a 500GB model costs only about $43. It's also available in 1TB, 2TB, and 4TB capacities, it has a three-year warranty, and it's tiny enough that you can slip it into a pocket when on the move.
We also suggest you check out our list of overall best SSDs if you're looking for more options. We also have other useful collections like the best M.2 SSDs and best CPUs that might be of interest to you if you plan on building or upgrading a PC.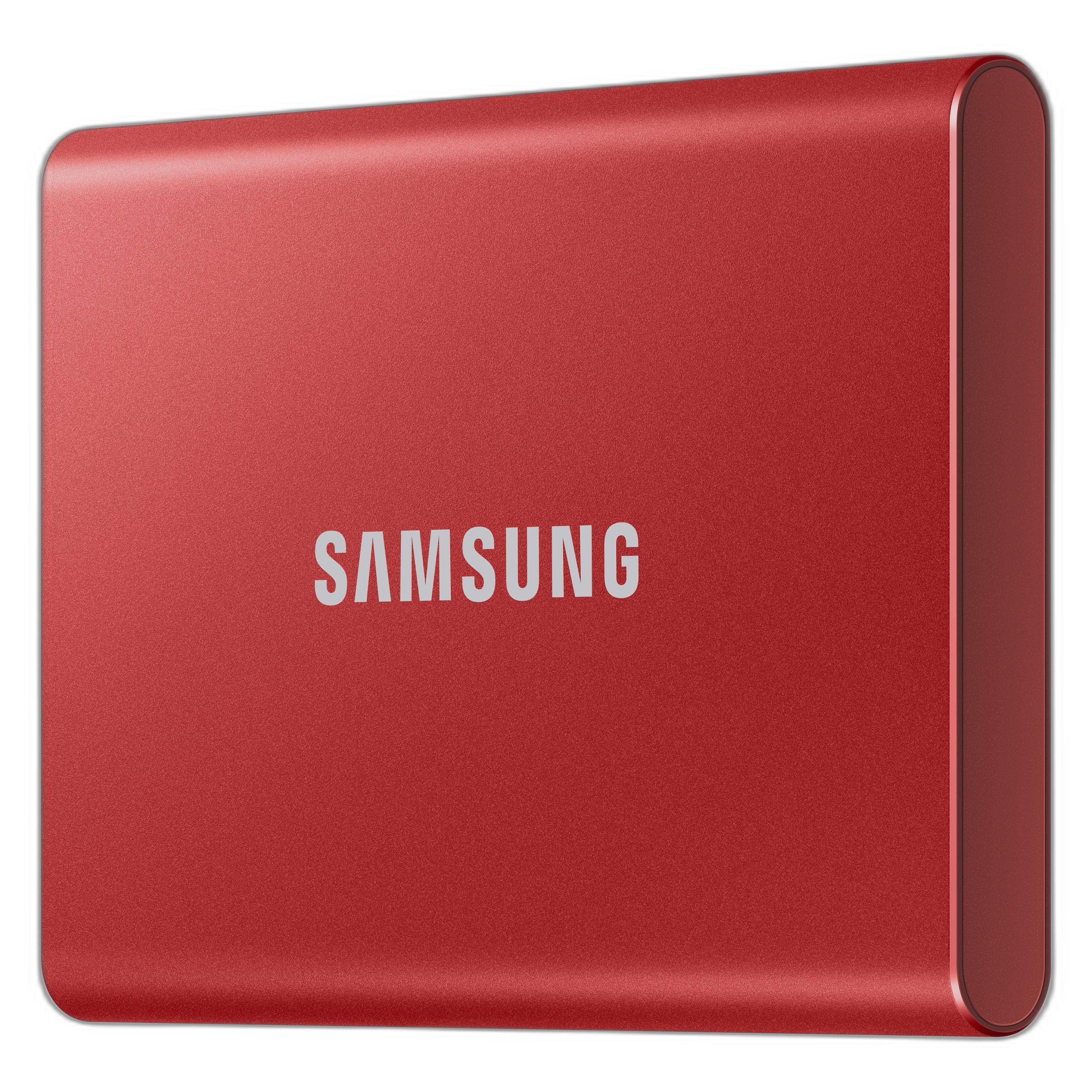 Samsung T7 Portable SSD
Best overall
$70 $90 Save $20
Samsung's T7 is an outstanding portable SSD that should fit the needs of most people. Be sure to check out the T7 Touch for added security or the T7 Shield for a more rugged option.